Your Puppy's Guarantee:
Puppies are guaranteed to be free of congenital and/or hereditary, life-threatening or life-limiting conditions for one year. Puppies are also guaranteed to be free of contagious or infectious illness for a period of 14 days.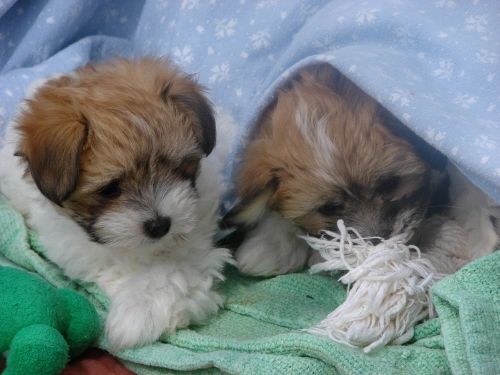 Your Puppy's Condition:
All Cotons of Moring puppies are thoroughly examined and vaccinated before receiving their official Florida State health certificate. On the day of pickup, you will find your puppy impeccably groomed and in excellent condition.
Your Puppy's Socialization:
Socialization is critical! Being a small breeder, having only a few litters each year, allows us to spend oodles of time with the puppies to aid in their socialization. We don't consider it a "job" because it's just plain fun to play with puppies. We also expose the puppies to visitors, children, kitties and a host of new and curious noises, smells, and objects.
Your Puppy's Smarts:
Cotons, as a breed, are very intelligent and easy to train. When puppies go to their new homes at 10 weeks of age, they are usually doing very well using piddle-pads. Cotons aim to please, so once they figure out what you want from them, they'll deliver. As puppies, however, it may take a bit of time for them to figure it out. Be patient. Consistency and repetition is the key to great training!
Your Puppy's Care Package:
Every Cotons of Moring puppy goes home with a "New Puppy Care Package" including the following:

Two Stainless Steel Bowls

Instinct by Nature's Variety Dog Food

Natural Balance Dog Food Rolls (treats)

NuVet Plus Canine Health Supplements

Plush Toy
Chew Toy
Pin Brush
Piddle Pads
Fleece Blanket (with mom's assuring scent)
Your Puppy's Paperwork:
New parents also receive a folder with the following important information:

Click above to see our puppy gallery, and our available puppies.